A Favorite Local Family Tradition: The Annual Christmas Tree Farm Visit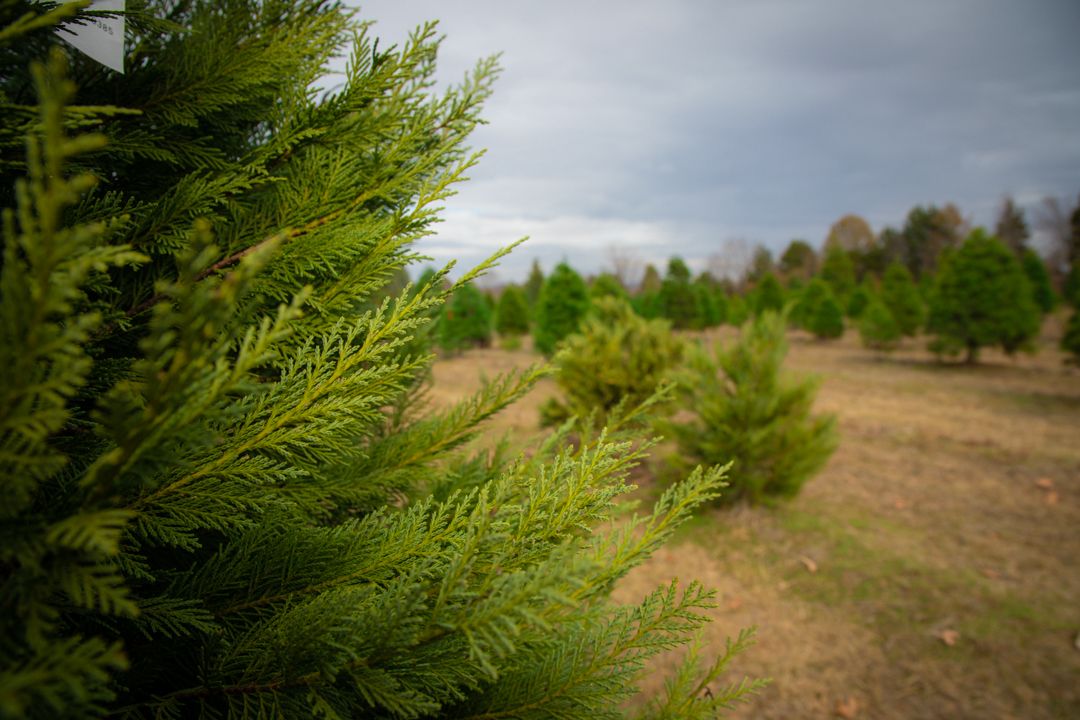 By Emily Staton
'Tis the season for hot cocoa, time spent with loved ones, and family traditions. For many families in the River Valley, one of their favorite family traditions is the annual visit to a farm to pick out the perfect tree. The River Valley is particularly lucky to have so many local Christmas tree farms, most of which being powered by Arkansas Valley Electric Cooperative.
Are you hunting for a classic tree? A purple tree? A hypoallergenic tree? A tree that is thirty feet tall? How about a tree that is only grown in northern states? Between these five local farms, they have you covered!
Johnson Family Christmas Tree Farm
Thomas and ReeNita Johnson, born and raised in the Paris, Arkansas, area started the Johnson Family Christmas Tree Farm in 2011. They sold their first tree in 2015 and currently have an estimated two thousand trees on the property. ReeNita recently retired from her career as a custodian for Paris School District, and Thomas recently retired from his career in construction, making this their first year as full-time grandparents and Christmas Tree farmers.
With a variety of options including Virginia pines, hypoallergenic trees, purple trees, imported trees, homemade ornaments, and farm-fresh wreaths, the Johnsons are eager to have something for everyone. They even have a barrel trolly and a dirt pile for the kids.
"When we were little, both of our families would go to the woods and pick out our Christmas trees. We have never had an artificial tree in our home." ReeNita continued, "Owning the Christmas tree farm is a lot of work, but it is worth it when we see the kids laughing, playing, and meeting so many people. I believe there is something about visiting a Christmas tree farm that truly brings out the best in people."
Thomas explained, "We just love Christmas. We love the family time, food, and traditions, but most importantly we love it because it celebrates the birth of our Lord and Savior."
Since Thomas and ReeNita have recently retired, they have big plans to expand their crop for upcoming years.
3267 AR-309, Paris, AR 72855 (479) 847-5280
Saturdays 10 a.m. - dark
Sundays 1 p.m. - dark
By appointment through the week - Call ahead


Lollis Christmas Tree Farm
Ninety-year-old (Wilbur) Buddy Lollis started Lollis Christmas Tree Farm in the mid-80s. He and his late wife Connie, signed up for a program through the National Forest Service among several other families to get seedlings and kickstart their path to additional income. Needless to say, at the time, they did not realize just how much work a Christmas tree farm would require.
"One of the things that the forestry service was presenting was that I was not going to make much money at first, but later on, it would be a good income for my retirement... I just didn't know I was going to live this long," Buddy chuckled.
Buddy, his son Wade Lollis, and other family members work together to maintain the farm. They currently have nine thousand trees growing, and usually sell about one thousand a year. They have mostly Virginia Pine and a few assortments of Leland Cypress Trees that come in all shapes and sizes. They also make fresh wreaths, fresh mistletoe ornaments, and homemade ornaments.
When describing his favorite part of the Christmas tree season, Buddy shared, "I've got a little girl, well, I guess she's twenty-five now. When her momma and daddy brought her out for the first time, it was really cold. Connie was sitting in there by the fire and she told the lady, 'Give me that baby, I'll keep her warm. Y'all go on and look all you want to.' Well, that was the start of a twenty-five-year tradition. Of course, I got my picture made with the baby. Then the second year I got my picture made. We've been doing that since. She's married now and she still comes to support me with her husband."
Christmas Tree Lane, Rudy, AR 72952 (479) 474-2102
Open 7 days a week, 10 a.m. - 5 p.m. through December 22, 2022 (weather permitting)


Christmas Tree Lane
Jim and Karen Lane are both from River Valley and have resided in Ozark since college. The Lanes planted their first seedlings in 1990 with approximately six thousand trees growing today. The Lanes grow Virginia Pine, Leland Cypress, and Carolina Sapphire. They also order a few Fraser Firs grown in North Carolina.
"We have customers that have come here for twenty-five years. We take pictures of the family as they get their tree every year, and we feel like we have done life with them at Christmas time. Throughout the years they have lost loved ones, their kids are grown up, or now some have grandkids, and we are a part of that. I think that's what makes this business so special for us," shared Jim.
The Lanes describe their farm as a "Hallmark experience." They have (theatre style) snow on demand, a family-sized tetter totter, a walking path to a nativity scene, a rentable cabin, a Christmas shop, concession stands, a free photographer (weekends only), the famous red truck, Moose the Saint Bernard with his hot chocolate barrel, and more.
Jim explained, "Our love for Christmas is based on the fact that we celebrate Christ's birth." His eyes welled with tears as he continued, "I don't know how a person can overlook the greatest and most important part of Christmas. So what you'll find here on our tree farm, is that we don't necessarily play around a lot with Santa or a lot of the traditions that don't necessarily point towards Christ. We try to make sure that our faith is evident."
8103 AR-23, Ozark, AR 72949 (479) 667-8412

Pine Grove Christmas Tree Farm
Greg and Betty Eckart, known to be one of the first Christmas tree farmers in Arkansas, started Pine Grove Christmas Tree Farm in 1978. Greg is retired after a 42-year career pharmacist for Sparks Hospital and Betty is a retired elementary school teacher. They each were originally from North Logan County, but have resided in the outskirts of Charleston for more than four decades.
An article in The Progressive Farmer Magazine sparked Greg's interest in growing Christmas trees. The article was about a South Carolina farmer attempting to grow Virginia Pines as Christmas trees. Greg decided he wanted to try it out and soon after, ordered his very first seedlings.
Greg explained, "Right now, we probably have about four thousand Christmas trees growing. We grow Virginia Pines, Leland Cypress, Carolina Saphire, Blue Ice, and some Murray Cypress. We buy a few Fraser Firs every year, because that is what some people grew up with, and we try to have something for everyone."
Pine Grove has pig races, a barrel train, hay rides, a hidden candy cane tree, a petting zoo, popcorn, hot chocolate, special book readings from Mrs. Claus herself, and more!
2919 Yocum Street, Charleston, AR 72933 (479) 965-4826
Monday-Friday: 1 p.m.- 5:30 p.m. Saturday/Sunday: 10 a.m. - 5:30 p.m.


D&C Holiday Farm
Dean and Carrie Armstrong opened the D&C Holiday farm in 2019.
The Armstrongs have about nine thousand trees growing today. The D&C Holiday farm grows Leland Cypress, Carolina Sapphires, and Virginia Pines. They order Noble Firs and Norman Firs from Oregon, as well as Fraser Firs, Balsam Firs, and Scotch Pines from Michigan. According to Dean, "If you show up, there is guaranteed to be a tree in your price range."
Dean worked for a Christmas tree farm for a year before going to college to become a teacher, which fostered his love for the business. "I really like to see people happy and you just don't see people in a bad mood at a Christmas Tree Farm. There is always a smile on their face, the kids are laughing, and usually, they leave with something in their hand. That's the reason I love what I do," shared Dean.
With a life-size gingerbread house for writing letters to Santa, fresh wreaths, a miniature animal petting zoo, a sled made by Henry Ford's company in 1852, bounce arounds, photo opportunities, and so much more, the D&C Holiday farm goes above and beyond to cater to everyone.
Dean, a history buff, school teacher, beekeeper, former forester, and now a tree farmer, has big plans for the upcoming years on the farm. They plan to grow sunflowers, pumpkins, berries, and more, making the farm a year-round getaway for local families.
113443 S 4690 Road, Muldrow, OK 74948 (918) 235-1052
Open 7 Days a week: 10 a.m. - 8 p.m.


Christmas Tree Care Tips Collectively From the Farmers
A tree needs to be freshly cut. If bought off a lot, cut two to three inches off the bottom before placing it in water.
The sooner a tree is in water, the better. For as long as the tree is displayed, it will require lots of water.
Keep away from heat. Whether a fireplace or a vent, trees do not handle heat well.
Sign-up

to
Stay Informed
Sign-up

to Stay Informed