Find Your Purpose: AVECC Awards 2nd Annual Teacher Appreciation Scholarship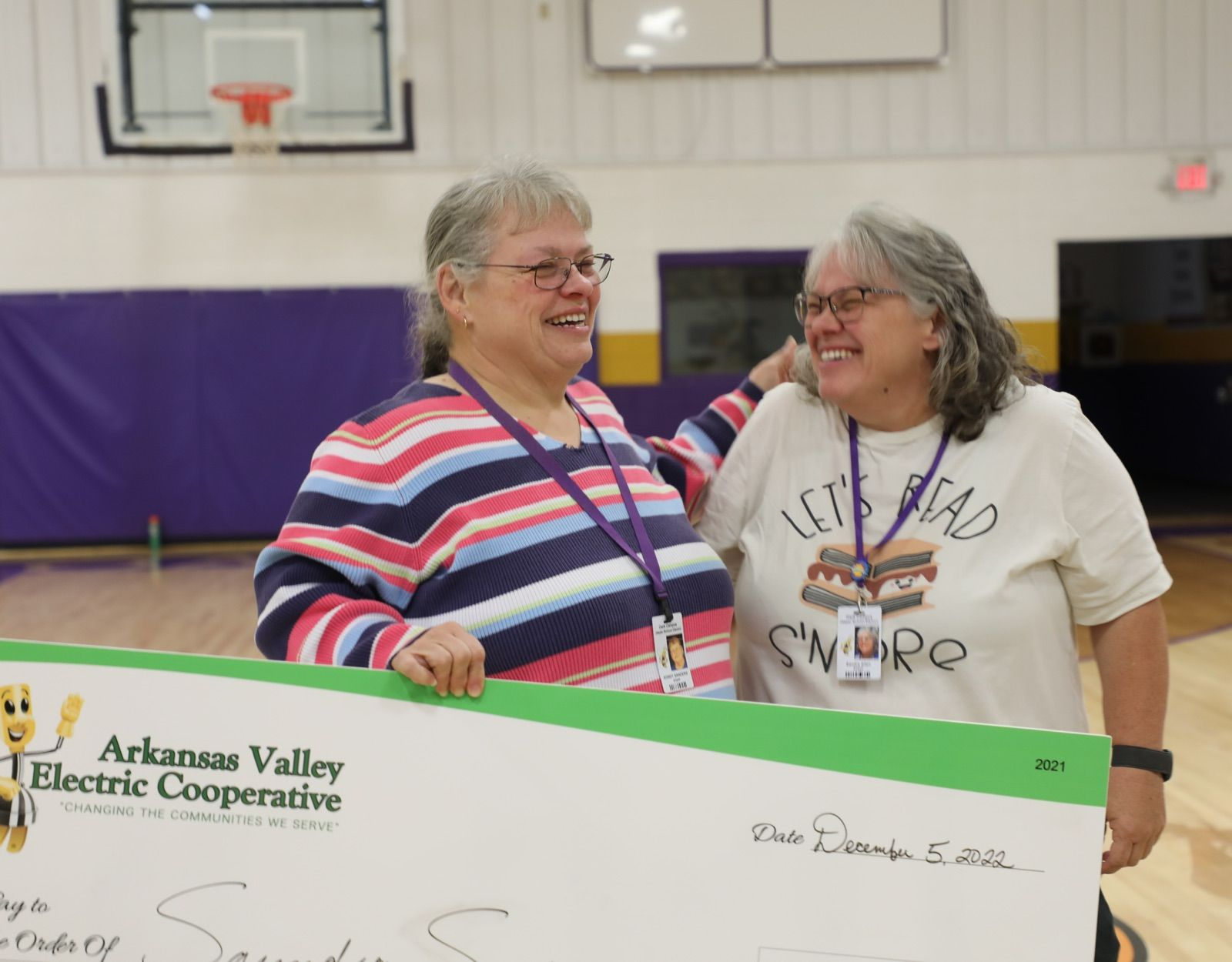 Arkansas Valley Electric Cooperative Corporation hosted its 2nd annual Teacher Appreciation Scholarship and awarded two outstanding teachers with a $2,500 check each.
Earlier this fall, AVECC asked community members to nominate outstanding teachers across the River Valley. An internal committee chose four finalists and visited each of the finalists' schools to interview a peer, administrator, and student.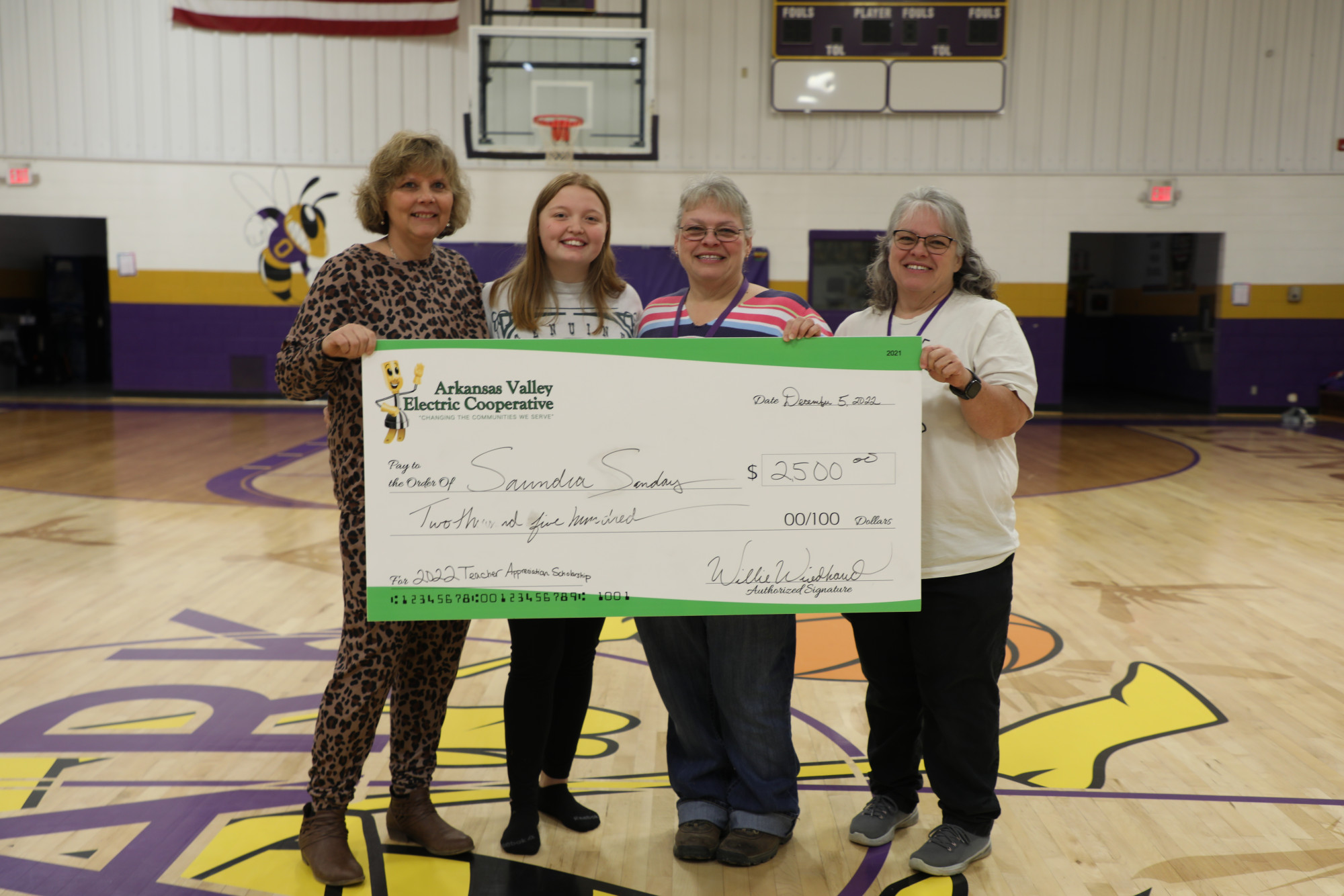 Oark High School Agriculture Teacher Saundra Sanders is one of the overall winners of this year's scholarship. "Mrs. Sondy" is an Oark native and believes in the power of teaching her students real-life skills. Her background in Biology and Forestry helps her daily teach her full slate of classes to 32 unique students.
Mrs. Sondy was described as a "critical influencer" for Oark Schools and that her job title "only scratches the surface of the impact she makes for Oark students."
"I'm flattered to receive this scholarship and to know that my coworkers and community members think of me that way. I am a jack of all trades. I wear a lot of hats and try to do whatever is necessary for our students."
In addition to teaching agriculture classes, Ms. Sondy is the school's FFA Advisor, helps teach upper-level math classes, and councils students on applying for college. She is a substitute bus driver since she often takes her FFA students to Leadership, the Johnson County Fair, and the Arklahoma Fair competitions.
Ms. Sondy is a Case Certified Teacher in Natural Resources and Animal Science.
"We house rabbits and chickens on campus. Recently we had a bottle-fed goat named "Gerbil" that was a campus-wide star," she shares.
Ms. Sondy's true calling is more than competition and classroom teaching.
"The number one rule I have is for students to challenge themselves and find their purpose. I ask them, "Where is your passion, and what purpose do you think that has in life. I try to give them everyday life experiences so that when they leave here, I hope they are as prepared as I can get them for the real world. Then, I push them from the next and hope they fly."
Ms. Sondy believes her scholarship will help purchase chicken and rabbit food for the animals living on campus.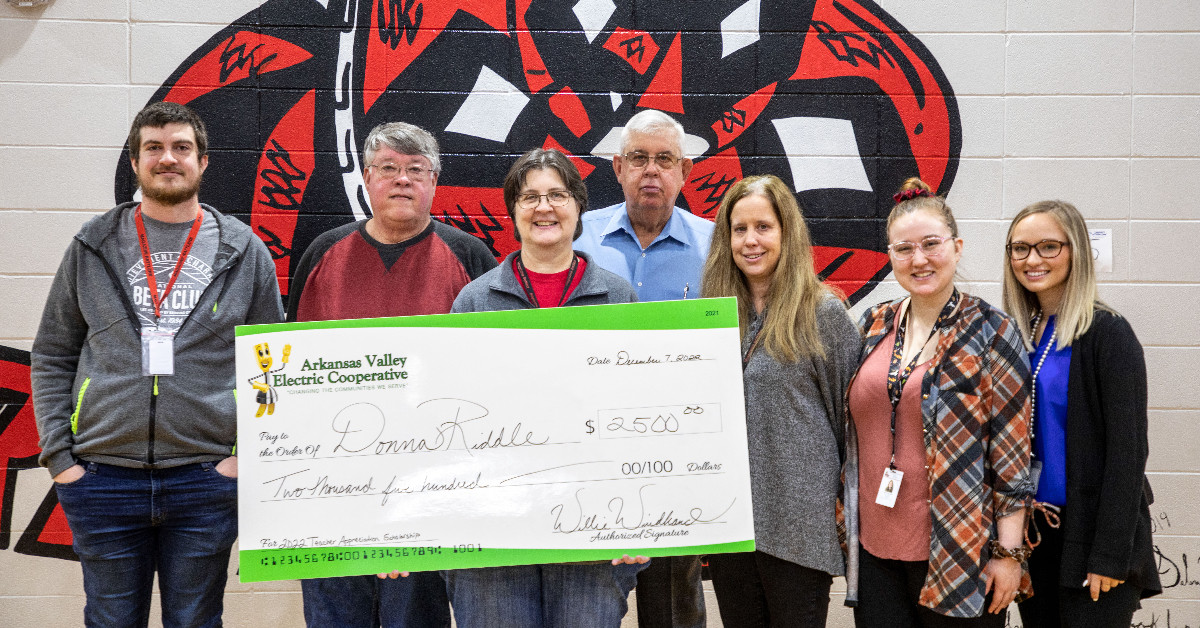 AVECC also proudly awarded Mrs. Donna Riddle, Magazine High School's Social Studies teacher, a $2,500 scholarship.
Mrs. Riddle is a Magazine native and always knew she would spend her life serving her community. For the past 34 years, she has taught at Magazine High and has become "a hero, legend, and greatly deserving of the honor."
In addition to teaching six Social Studies classes, Mrs. Riddle is the Magazine High Senior Class Sponsor, Traditions keeper, Quiz Bowl sponsor, and Beta Club sponsor. The Beta Club is a highlight for Magazine students with a 3.35 average GPA as they compete annually at the State and National Convention.
"Teaching is something I felt called to do. It is in my blood, and now, years later, I have taught generations."
Mrs. Riddle expects excellence in her classroom but believes she is fair to her students.
"I get involved in the kids' interests. I like to talk to them about their ball games because that is important to them. That's how I have bonded with all my students over the years."
When Mrs. Riddle was awarded the scholarship, her students gave her a standing ovation, which humbled her.
"Looking up in the stands and seeing those kids proud of me."
Mrs. Riddle believes her scholarship will be used for upcoming Beta Club expenses, although she will probably buy a few Diet Mountain Dews, her favorite drink, to help her get through the day.
AVECC would also like to congratulate Ozark Elementary Special Education Teacher Brittany West and Clarksville Intermediate (4th grade) teacher Jessica Pianalo for being a finalist and receiving a $500 scholarship.
Tune into The Next Greatest Thing's podcast to learn more about Ms. Sondy and Mrs. Riddle.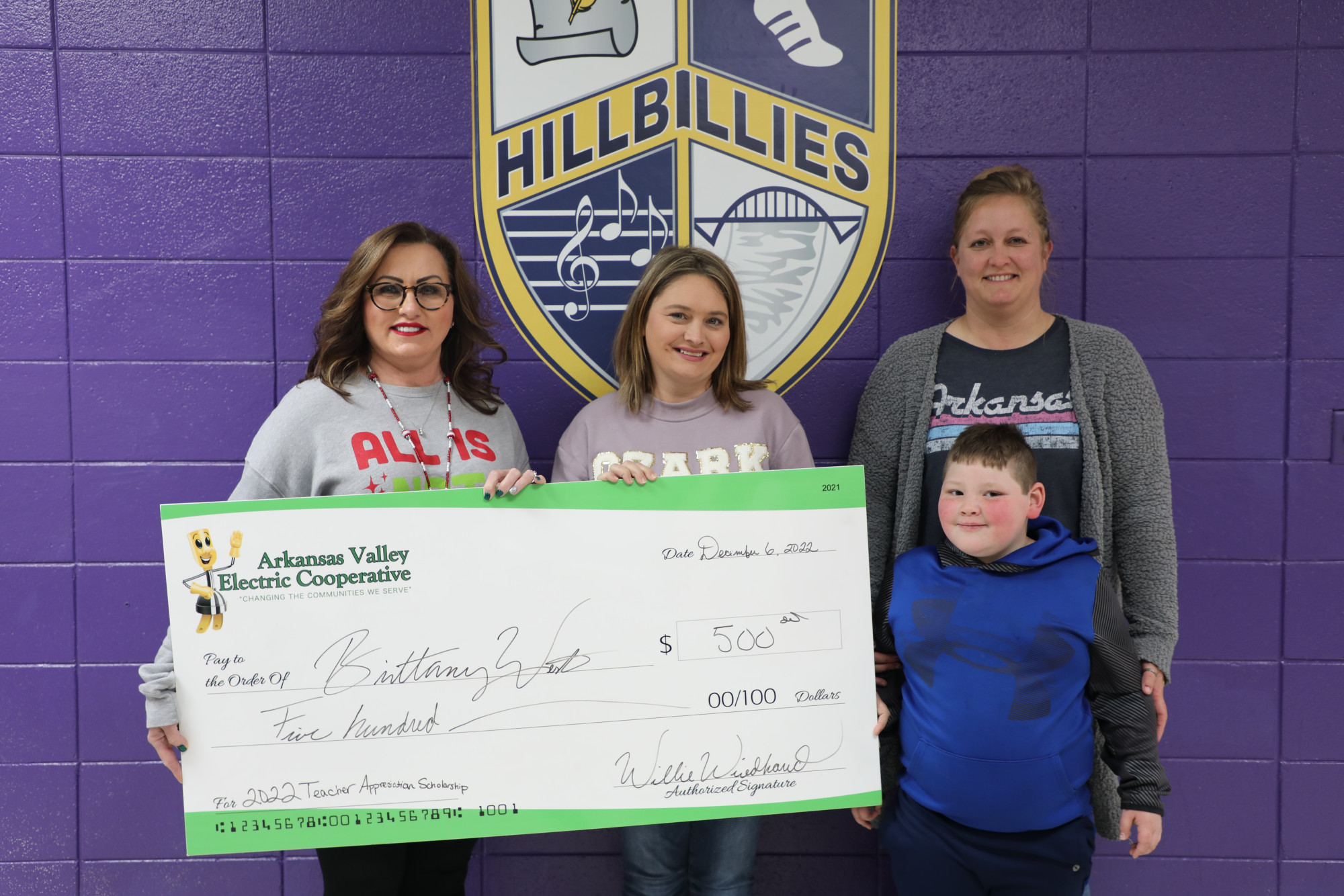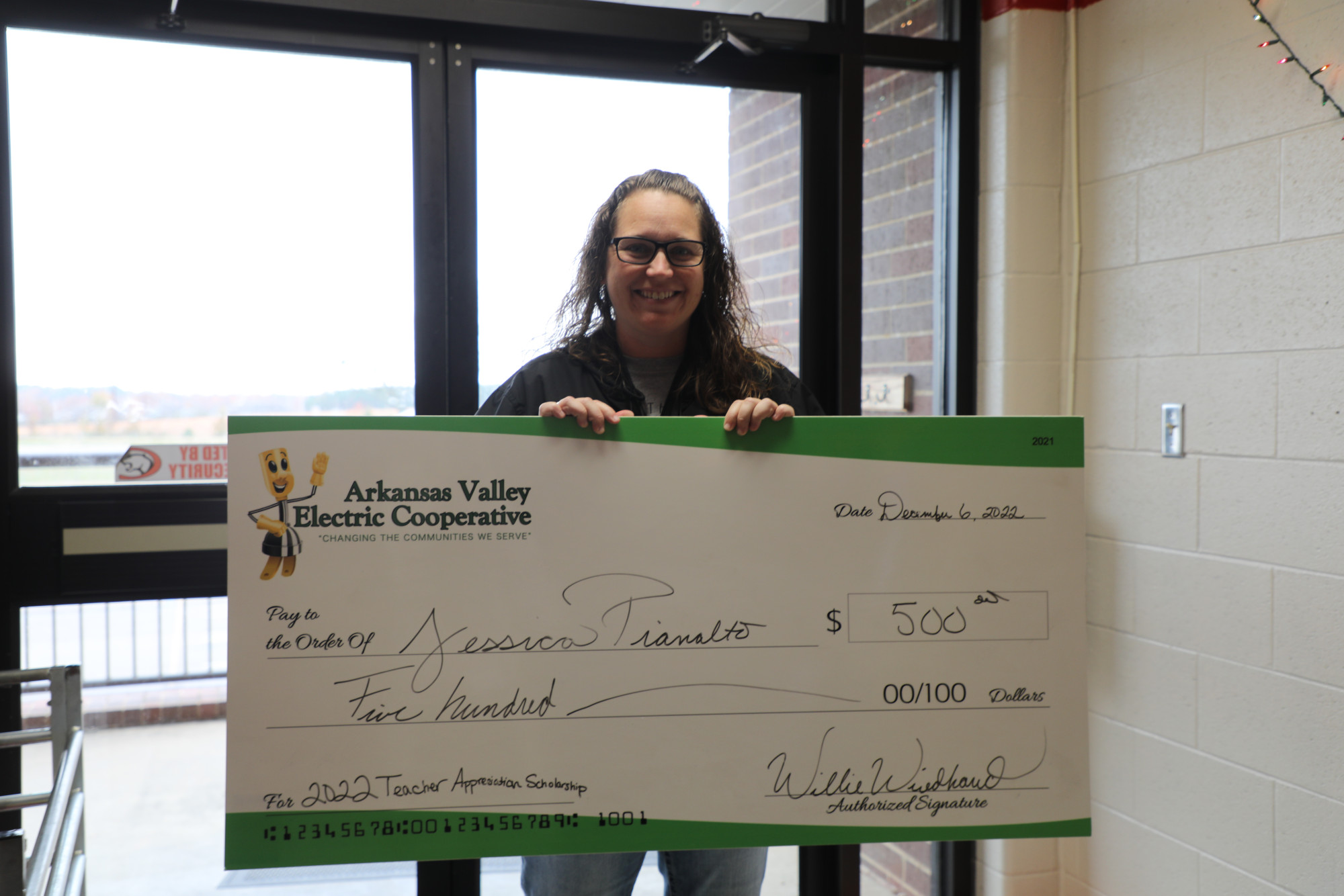 Sign-up

to
Stay Informed
Sign-up

to Stay Informed