Breakfast And Lunch: A School's Commitment To Feed Children During The Pandemic
In response to the COVID-19 pandemic plaguing the country, Charleston School District (CSD) followed the guidance of Arkansas Governor, Asa Hutchinson, by closing school doors on March 16, 2020. The hallways are dark, and classrooms are empty, but Charleston School District, (among other area schools), is committed not to let their students go hungry at home.
Charleston teachers, administration, and volunteers joined together to provide area children two meals a day—a breakfast and lunch meal delivered to their doors.
Superintendent, Melissa Moore spoke about the meal delivery program.
"We have 873 students at CSD. We currently deliver meals to over 380 students, and the numbers grow each day. That's 44% of our student body."
CSD does not discriminate when it comes to giving lunches to students 18 and under.
According to Moore, students do not need to be enrolled at CSD to receive a meal if they are living in the district.
"Some children are living with extended family at this time. We understand that. Any child under the age of 18 can get breakfast and lunch from us. We can feed any child that might benefit from getting a breakfast item, juice, milk, and lunch entrée," she stated.
Moore wanted the meal request process to be seamless for parents and students.
"We created a Google document for parents and students to fill out, so we know where to deliver and how many meals they need for each home," Moore explained.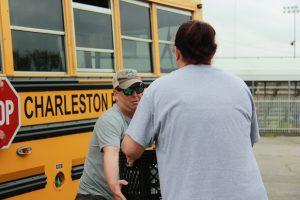 "I also contacted each household by using an all-call system and advertised the program on social media," she added.
Moore expressed gratitude to all of the selfless volunteers who are on the frontlines of this program.
"Our food service employees are doing amazing work to get the requested meals prepared before the volunteer teachers and coaches deliver at 11:00 a.m. each day."
Delivery services consist of cars that deliver in the Charleston city limits, and buses travel to rural communities. Approximately 260 meals are provided to rural homes.
(AVECC serves electricity to approximately 700 households in the CSD district)
The meal delivery program began March 23 and will continue until CSD officially ends the school year on May 22.
At Arkansas Valley Electric, we believe in changing the communities we serve. Learning about stories like CSD helps us remember that during times of trial, our communities come together and help make a difference in our lives.
AVECC sincerely thanks all of the area schools, organizations, and individuals for going above and beyond to serve their students and communities.
For more like this, follow AVECC on Facebook, Instagram, Twitter, and visit www.avecc.com.
Sign-up

to
Stay Informed
Sign-up

to Stay Informed