A Helping Hand And A Message Of Love: Zion Lutheran Church Is Changing The Communities They Serve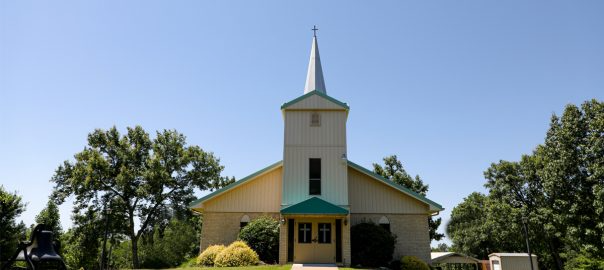 On the 3rd Saturday each month, a dedicated group of people gathers at the Zion Lutheran Church in Augsburg, Arkansas. They selflessly gift needed food and hygiene items to over 800 people in the Arkansas River Valley community.
Each year, this same church gifts thousands of dollars to the River Valley Christian Clinic in Dardanelle, Arkansas.
With a simple steeple and a message of love, this little white church is powered by Arkansas Valley Electric Cooperative Corporation (since 1941) and is indeed a living testament to AVECC's motto, "Changing the Communities We Serve."
…
In 1883, a small congregation of German immigrants made way to their new sanctuary in rural Pope County, a chapel on a hill in a township called Augsburg. Zion Lutheran Church was an answer to their prayers, their haven, a place they could openly practice their faith without the judgment of the outside world.
Over the years, believers remained faithful to the Gospel preached from a German Gothic Cathedral-inspired raised pulpit. It was a feature added when the church rebuilt in 1907. The building was topped with a cast iron bell that sang in times of need, sorrow, and celebration.
In 1979, the church burned as adolescents ran through the dark, a disastrous cover-up for stealing sound equipment. The original bell, although cracked, was saved and repaired, while all else turned to rubble.
And then they rebuilt.
By 1995, the church was Generations away from their ancestors who chose to live in the mountains to protect their faith. The Zion Lutheran Women's Missionary League began looking for ways to serve their community and surrounding communities. They started giving food to their neighbors in need.
What began as a small group effort to make a local change transitioned over the next 25 years into a leading force in community service. Today, the Zion Lutheran Church is a thriving sanctuary for its congregation on Sunday. It is also an answered daily prayer for community members across seven counties in the Arkansas River Valley.
The Zion Lutheran food bank serves the elderly, out of work, and disabled community members, or those who have fallen on hard times. They never judge, and never ask questions. Greeted with a smile and a word of encouragement and prayer, those in need leave with enough goods to last the rest of the month.
Local supercenters, businesses, and citizens aid in the community efforts by supplying Zion Lutheran with various supplies. Families with ties to Zion Lutheran send funds each year. The majority of the relief comes from the church's annual fundraiser, Augsburg Fall Fest, held on the second Saturday of October.
Augsburg Fall Fest is a celebration of Zion Lutheran's heritage and has been a staple event since 2008. Each year, over sixty volunteers gather to welcome guests from across the United States from Florida to California and even Hawaii.
The money raised from attendees and sponsorships is equally divided between the River Valley Christian Clinic in Dardanelle and the Augsburg Food Pantry.
Earl Schrock, a church elder and former Dean of Liberal Arts at Arkansas Tech University spoke about the vast array of community efforts Zion Lutheran leads in the Arkansas River Valley.
"We have fortunately become known throughout the region as community impactors. I believe what we do is a witness to our faith."
…
Arkansas Valley Electric strives to improve the daily lives of all AVECC members in 14 counties. Stories of perseverance and dedication to others encourage us to continue pushing forward and revolutionizing the way we serve our members. The Zion Lutheran Church is changing our communities one outreach effort at a time.
If you or someone you know, who is an Arkansas Valley Electric member would like to share their story of "changing the communities we serve," please email the AVECC Multimedia department at Barbara Jenkins at bjenkins@avecc.com to submit a story idea.
Sign-up

to
Stay Informed
Sign-up

to Stay Informed