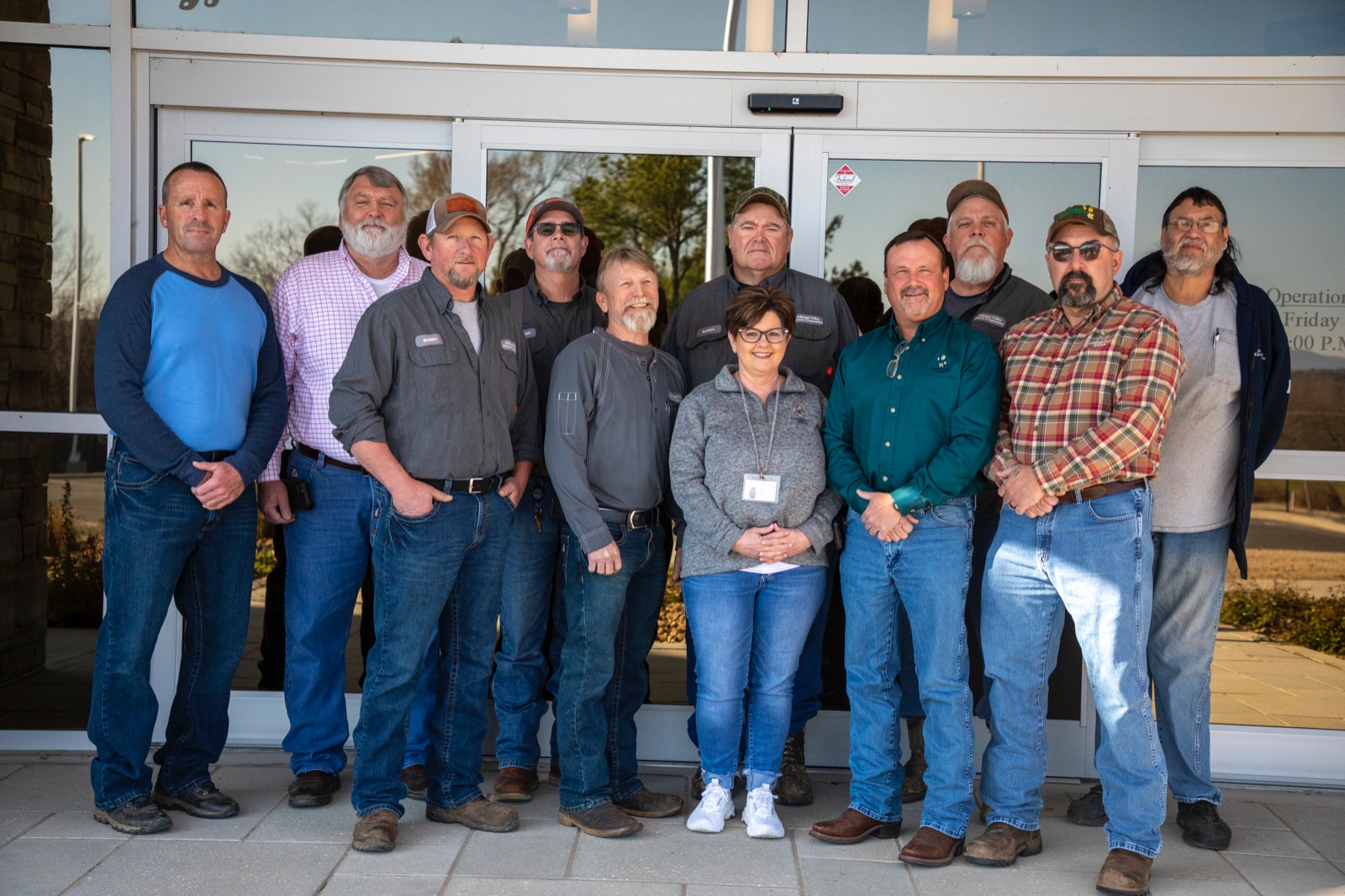 Arkansas Valley Electric's goal as a cooperative is to serve our communities and members across the River Valley. The difference-makers are the people who serve the cooperative day in and day out. On March 31, 2022, 11 dedicated employees celebrated their last day after a cumulative 330 years of service to the cooperative in various roles. AVECC CEO Al Simpson shared, "We always say what a fantastic place Arkansas Valley Electric is to work, and the 11 people we have retiring are a testament to that. This group has bettered the communities we serve every step of the way. They have been skilled workers, great teachers, and, most importantly, exceptional individuals."
AVECC Engineering and Operations Director Barret Ewing added, "With over 330 years of collective experience, a lot of knowledge will be walking out the door. This group of men and women have dedicated their lives to the co-op, the members and fellow employees." The retirees represent a variety of vital roles in the cooperative, including linemen, surveyors, right-of-way and member services. AVECC wishes all retirees the best of luck for their futures and thanks them for their dedicated years of service.
Ewing stated, "I won't underestimate the hole these retirements will leave at the cooperative. However, I believe that we stand on the shoulders of those who came before us. We are lucky that this group is full of 'giants' in terms of personality, experience, leadership, and ability to teach."
Simpson added, "We wish them well in the next stage of their journey and look forward to watching the ones that they have mentored excel in the positions that they have left behind."
330 Years of Service
Don Easom Operations Manager 36 years & 10 mo
Michael Ford Right-Of-Way Supervisor 36 years & 8 mo
Todd VanDeWiele District Superintendent 36 years & 7 mo
Bobby Standridge Journeyman Lineman 36 years & 5 mo
Johnny Ree Underground Foreman 36 years
Fred Phillips Easement Coordinator 33 years & 5 mo
Randy Hill Lead Heavy Equipment Operator 32 years & 5 mo
Michael Parker Warehouse Person I 25 years & 8 mo
Doug Nichols Lineman 1st Class 24 years & 6 mo
Roxie Smith Member Services Representative – Ozark District 21 years & 9 mo
Richard Mason District Substation Apparatus/Meter Technician 10 years & 5 mo
Sign-up

to
Stay Informed
Sign-up

to Stay Informed