Flying High: A Look at AVECC's Drone Team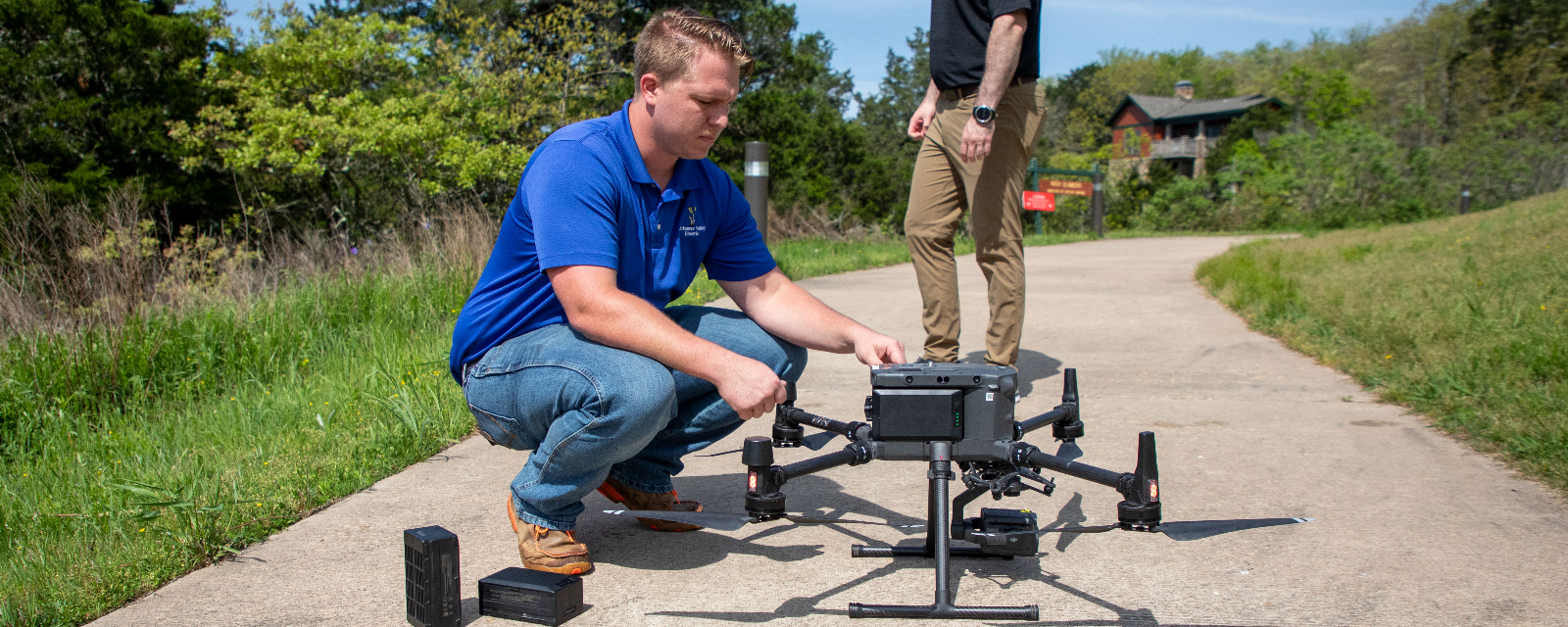 By: Barbara Jenkins, AVECC Multimedia Specialist
Whether bringing high-speed internet to rural homes or providing quality care after the storm, Arkansas Valley Electric is committed to upholding the 85-year-old promise we made to our members and continue to reimagine that promise for today's members and tomorrow's generations.
AVECC's drone program is one of the many ways Arkansas Valley Electric is serving our members to the highest level.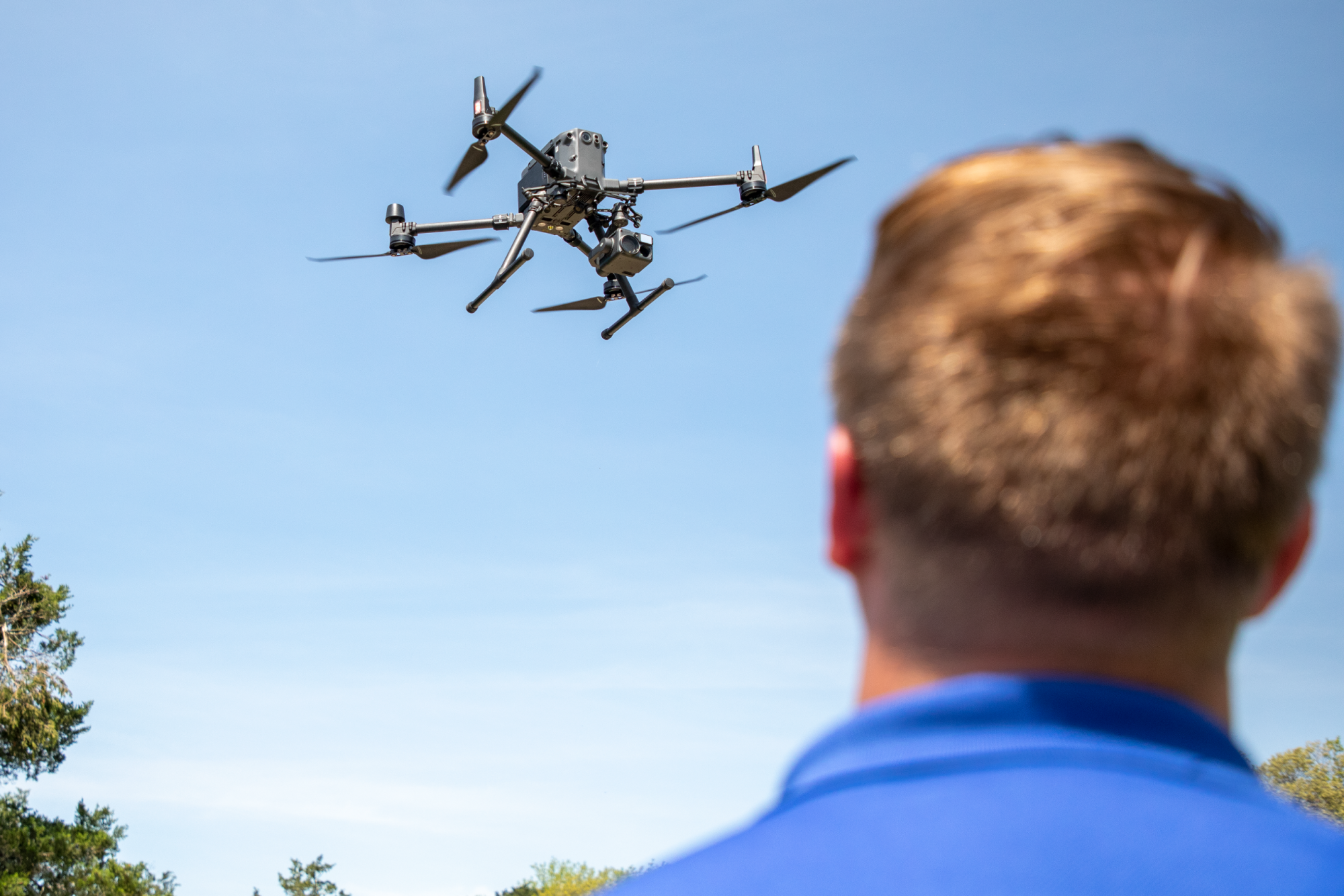 The drone program was established in 2017 when AVECC employees showed interest in flying drones for inspection purposes.
AVECC GIS Specialist/UAS Coordinator Seth Sikes explains that historically the cooperative hired contractors to inspect power line poles by helicopter, which cost quite a bit per mile. "We thought we could start doing the inspection ourselves if we had the right equipment. We officially started the drone program in 2017 when we sent five employees to take their part 107 test."
Over the last five years, drones have become an integral tool cooperative-wide.
Sikes shares, "we can easily inspect powerlines and utility poles in tough terrain across our service territory. Our primary focus is transmission inspections. We're currently inspecting around 80 miles of transmission line this year alone. We're looking for woodpecker damage, cracked crossed arms, and broken insulators."
The drone team shares the footage with the engineering department, who can then evaluate the equipment.
The drone team is also vital in power restoration during and after storms.
AVECC GIS/UAS Analyst Levi Young explains how the drones help linemen speed up the restoration process.
"While the linemen are constantly working on all the utility poles that they can find immediately after the storm, we can survey other hard areas for the linemen to access by truck or foot. The operations department can note any necessary materials and equipment needed at a particular location with the drone footage," Young says.
In addition, the drone team can assist the Multimedia department by providing drone videos in membership spotlight features, educational content, and more.
AVECC CEO Al Simpson states, "In the past 15 years, we have watched our cooperative utilize technology that has made AVECC more efficient and impacted productivity positively. Whether it's been flying drones during storms, implementing easy payment options for our members, or eliminating paper in the field by providing all of our outside personnel with mobile devices, technology has guided our cooperative over the past decade, and we look forward to seeing where it takes us in the future."
AVECC IT/Communications Director Brandon Fisher adds, "Staying current on technology is essential in today's cooperative world. Whether it's mobile devices that our linemen depend on daily in the field, applications that our Control Center uses during outages, or platforms that allow our MSRs to assist our members at a high level, AVECC takes great pride in being on the cutting edge of cooperative technology. We look forward to seeing new technologies guide us into the future."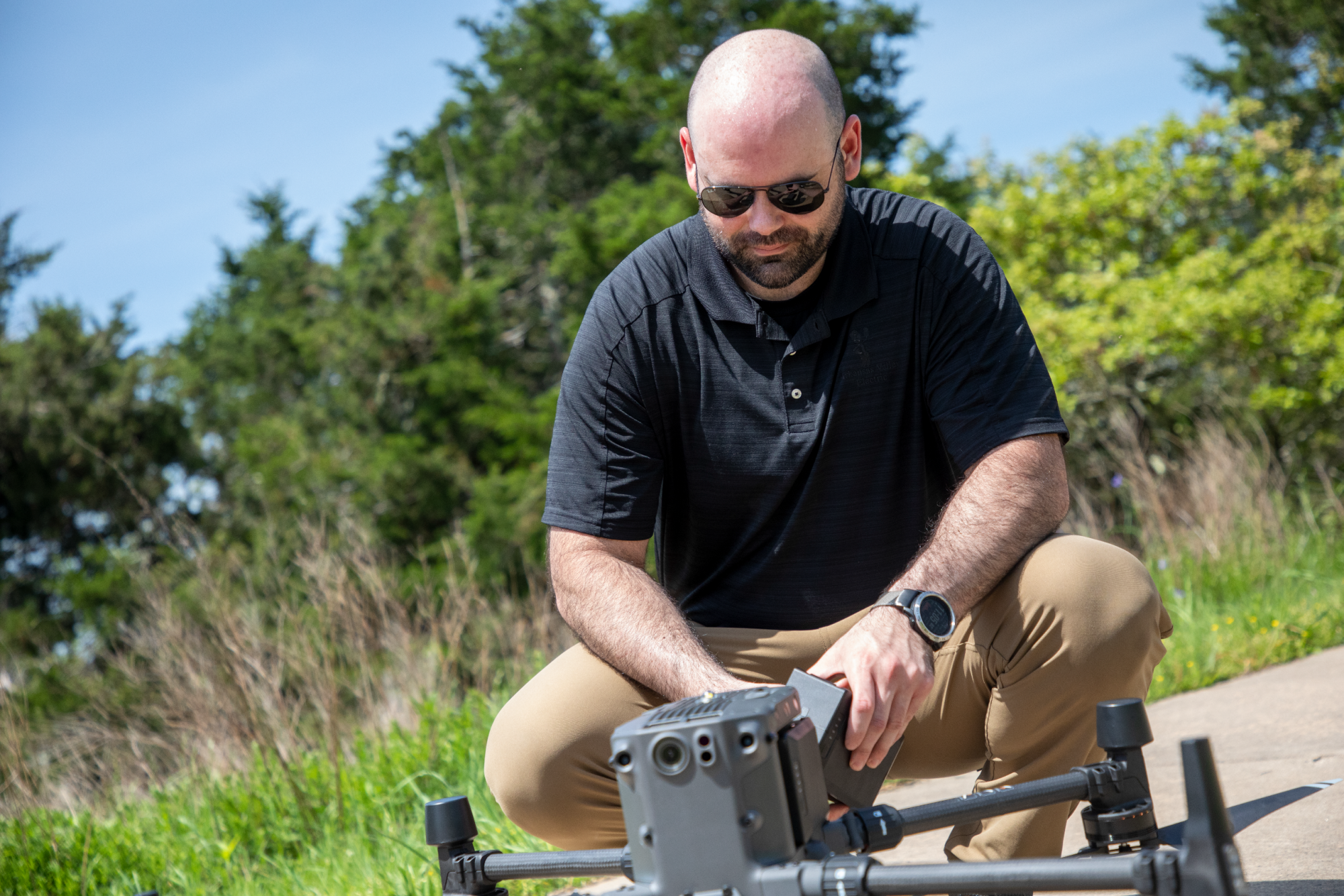 The drone team takes pride in helping streamline multiple departments across the cooperative. However, they are most proud to provide a service that allows AVECC employees to stay safe.
"It's safer to fly a drone above a substation than a man walking through it. Being safe is always better. You'd rather lose a drone than a person any day," shares Young.
The GIS department currently uses four drones and hopes to continue implementing drones for any of AVECC's needs.
Tune in to "The Next Greatest Thing" podcast episode, "Talking with the Drone Team," currently streaming on iTunes and Spotify.
Sign-up

to
Stay Informed
Sign-up

to Stay Informed